An amazing immersive experience in Edinburgh. Edinburgh is the capital of Scotland and one of the most popular destinations for students. It is home to one of the best universities in Europe. However, there is much more to the city that attracts people other than its great university traditions. The best thing about Edinburgh is that it's very easy to find all kinds of activities for international students because of its huge student population. There are many things to do in the Scottish capital. It has so much to offer!
Why is Edinburgh great for students?
Edinburgh is known for its majesty, beauty and history. It is the perfect combination of the old and the new. It's not a very big city so it's easy to get around, and in fact, one of the best things you can do is lose yourself in its wonderful stone alleys and walk through fairytale-like churchyards that you'll find all across the city.
Students will be able to benefit from tons of educational opportunities whilst in Edinburgh. But not only that, with all the leisure and entertainment that is on offer. Whether that be it's rock or Irish music groups playing live in any of its old bars; the sound of Scottish bagpipes in every corner of the city; the festivals; its theatres and musicals; student events; its huge parks scattered throughout the city; the enchanted hills that surround it, such as Calton Hill or Arthur Seat; or its river areas to walk around, such as Water of Leith and Portobello beach.
It has a very rich and varied gastronomy, best known for its Sausage Stovies, haggis, takeaway soup, fish and chips, scotch pie, pulled pork, or something that a lot of young people love to eat: the Deep-fried Mars bar, which is a Mars bar covered in batter and then deep fried in oil. 
They are also famous for their kilts and dances, but above all, their approachable nature and for having a surprising sense of humour.
So if you are thinking about putting your English to the test, Edinburgh is a great place. You won't regret it. 
-There is a wide range of training courses, summer trips, or a full academic year in Edinburgh.
-If you are looking for an English programme for just one week, Edinburgh boasts a wide range of experiences to immerse yourself in the language. There are intensive courses which will improve your proficiency and cultural awareness while you are there.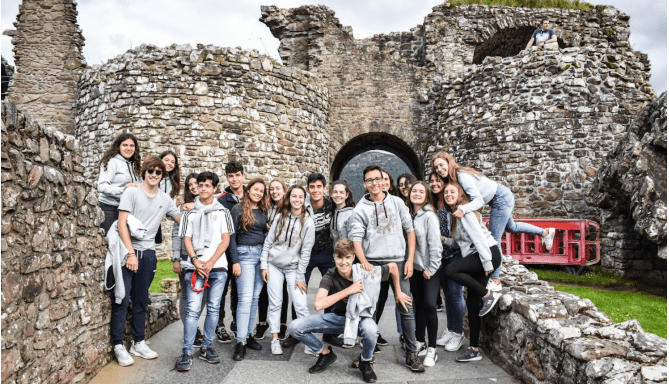 What does Edinburgh offer in terms of culture?
If you're still not convinced about going to Edinburgh, hopefully you will be won over by the fascinating history of this beautiful city. 
Edinburgh is one of the oldest cities in the world. It's history dates back around 2500 years. The name comes from the roman word 'Caledonia' which was founded in around 60 AD, and since then has been an important commercial hub because of its location in the Firth of Forth.
The population is made up of Scottish people for the majority and it's own dialect is quite different to English. They are also proud lovers of tradition and folklore, and you will notice this from seeing their ancient monuments like Arthur's Seat and Rosslyn's Chapel, as well as more modern attractions like the Elephant House Cafe or the Royal Mile street market. 
The long and interesting history of Edinburgh starts with the story of a castle, but you'll also find in its history bloody riots, murders and uprisings between different groups.
The castle was built by King David I who wanted to build a stone fortress on the edge of medieval Europe. The original name of this fortress was Dunedin or Dun Edin which means 'Edin's Fortress' in Gaelic. Then it finally became known as Edinburgh Castle.
The Royal Mile is the main part of the city. There are many big attractions in this area, like the Palace of Holyroodhouse and Holyrood Abbey. You will also find several art galleries, shops and restaurants in the area, as well as its charming old bars.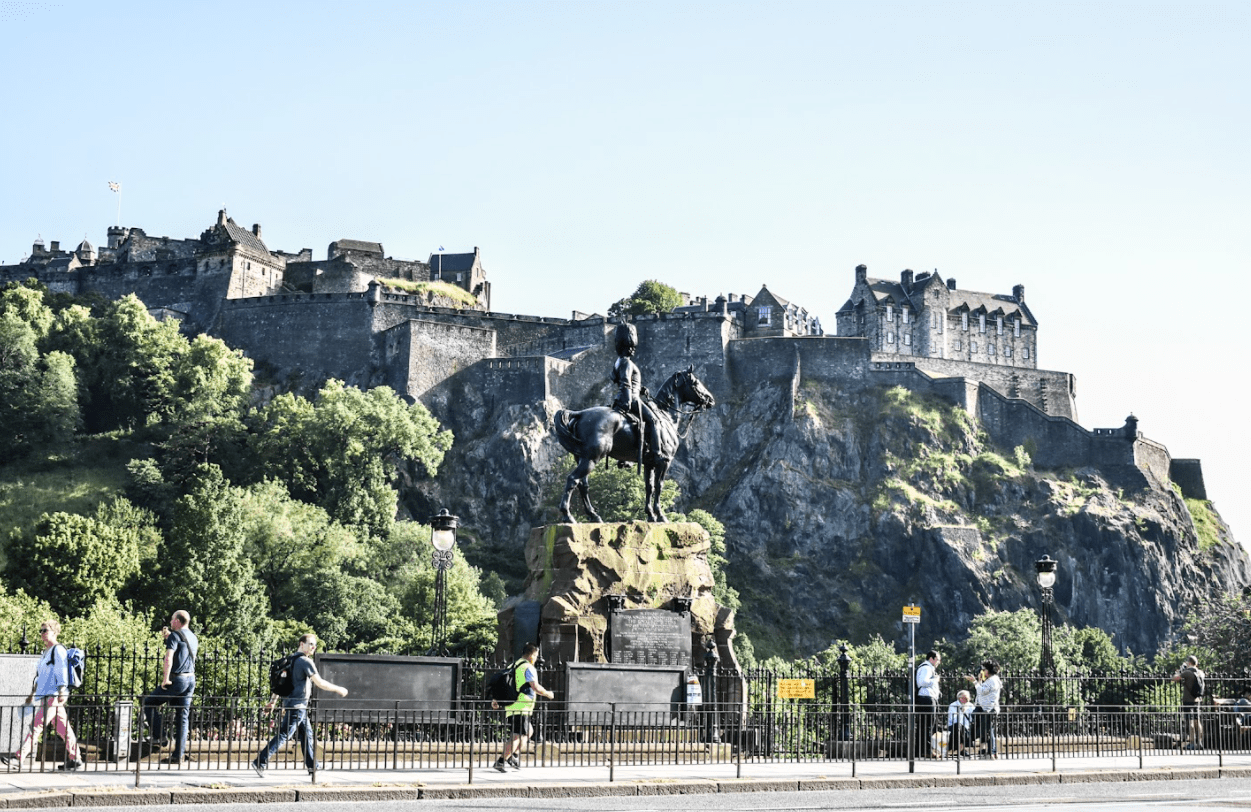 Edinburgh Castle sits at the top of Castle Rock at the east end of the Royal Mile. From here you can see most of the city and enjoy panoramic views of the capital. The castle was first set up as a fortress in 1004 AD, and since then it's developed into one of the most important in Europe.
Its historic centre is marked by a very low point in its history: The black plague that devastated the whole of Europe in 1644. Edinburgh was one of the most worst affected places by the epidemic. 
We can also add to the list its marvellous legends of fairies, vampires, ghosts and witches and wizards and knights. They were all sources of inspiration for J.K. Rowling and her Harry Potter saga. Scotland is pure magic and Edinburgh is at the heart of this wonderful country.
So, what do you think of Edinburgh? If you have fallen in love with the idea of taking your students on this experience to enjoy Scotland's cultural and linguistic heritage, take the plunge and get in contact with us today! We have been travelling with students on these trips for over 15 years, so you can trust us! If you want more information, click here.
https://nathalielanguages.com/wp-content/uploads/2022/02/Portadas-BLOG-UK-1-3.png
579
1030
admin
https://nathalielanguages.com/wp-content/uploads/2019/11/NL-logo-pink-h-uk-website-1.png
admin
2022-02-28 11:28:58
2022-02-28 11:28:58
An amazing immersive experience in Edinburgh